Lobster Controversies! Pig Prejudices! Lemon Cures!
In December we tried Edible Books, but now we're loving "The Edible Series" from publisher Reaktion Books. These small but surprisingly academic titles dive deep on the global history of a single food item.  And don't forget the delicious volume on cakes.
Caviar: A Global History
by Nichola Fletcher
Why caviar? — Sturgeon : the Jurassic fish — Ikra : the soul of Russia — Châv-jâr : Iran's story — Caviales comes to Europe — An American caviar rush — Crisis in the Caspian — How to make a sturgeon — Roe on Roe : alternative eggs — Caveat emptor : how to buy it — How to enjoy caviar
Pork: A Global History
by Katharine M. Rogers
The ideal meat producer — Prejudices against the pig — Pork in Europe — Pork in the New World — Pork in the Far East — Today's mass-produced pork
Lemon: A Global History
by Toby Sonneman
A fragrance of lemons — Origins and obsessions — Sicily: Arab MediterraneaI tYou n — Exotic treasure — The lemon cure — Lemonade — To and from the Golden State — At home and in the world
Dates: A Global History
by Nawal Nasrallah
Looking after the date — Date varieties — The 360 uses of the date palm — The eminent history of the date — Looking for the date: a bird's-eye view — The future of the date
Lobster: A Global History 
by Elisabeth Townsend
Introduction: what is a lobster? — From fertilizer to the dinner table — From main course to mass market — Lobster takes centre stage — Lobster controversies — Killing and cooking (humanely) — The futre of lobsters
Potato: A Global History
by Andrew F. Smith
The wild and domesticated potato — The potato diaspora — The European potato famine — The culinary potato — The commercial potato — The cultural potato — The global potato today and tomorrow
Bread: A Global History
by William Rubel
The early history of bread — Bread as a social marker — Parameters of taste — World of bread : an eccentric travelogue — Bread in the twenty-first century
Champagne: A Global History
by Becky Sue Epstein
The origins of champagne — The cult and culture of champagne — Champagne is established — Sparkling wine producers around the world — Wars, society and taste: stresses on champagne in the twentieth century — Style, styles and stylishness — Scandale! Expanding champagne around the world — Drinking today: what, where and how
Cake: A Global History
by Nicola Humble
When is a cake not a cake? — Cakes through history — Cakes around the world — The culture of baking cake — The rituals and symbolism of cake — Literary cakes — Postmodern cakes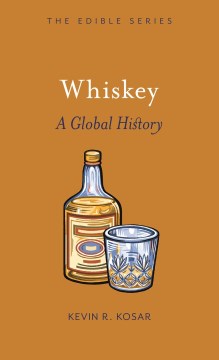 Whiskey: A Global History
by Kevin R. Kosar
Origins: from seed to spirit — Early history — Whisky in Scotland — Whiskey in Ireland — Whiskey in the USA — The twenty-first century whiskey world — Recipes — Some widely available, recommended brands.
Cheese: A Global History
by Andrew Dalby
The cheeseboard — History — Making — Consuming
Spices: A Global History
by Fred Czarra
Spices in the ancient world — Spices in the medieval world — The age of exploration — The age of industrialization — The twentieth century and beyond