Cast your vote for the 2014 Caldecott Medal…
And you could win a copy of the official winner!
Since the Caldecott Committee doesn't make their nominations public (they're very hush-hush), we came up with our own list. Visit the Central Library to read them, then fill out a voting slip at Central Library – or cast your vote here, in the comments.
Building Our House
written and illustrated by Jonathan Bean
A young girl narrates her family's move from the city to the country, where they have bought a piece of land and live in a trailer while they build a house from the ground up, with help from relatives and friends.
Journey
Written and illustrated by Aaron Becker
An imaginative girl with no one to play with draws herself into a fantastical world with adventures, danger, and perhaps even a friend.
Mr. Tiger Goes Wild
Written and illustrated by Peter Brown
Mr. Tiger lives a very civilized life in a very civilized town with other very civilized animals. But something just doesn't feel right. So Mr. Tiger starts to make some changes, ruffling some feathers along the way, and finds that he can be himself and be a little civilized too.
Train
Written and illustrated by Elisha Cooper
Board a commuter train in New York, then follow the journey west and see the stations, the scenery, the different types of trains, and all the people who travel and work on the railroad system.
The Day the Crayons Quit
written by Drew Daywalt; illustrated by Oliver Jeffers
Duncan receives grievances from each of his crayons: some for being used too much, others for being used too little. Duncan comes up with a masterpiece that will make all of his crayons happy.
Hank Finds and Egg
written and illustrated by Rebecca Dudley
Hank finds an egg on the ground while walking in the woods, discovers the nest from which it fell, and tries his best to return it.
The Matchbox Diary
written by Paul Fleischman; illustrated by Bagram Ibatoulline
Follow a girl's perusal of her great-grandfather's collection of matchboxes and small curios that document his poignant immigration journey from Italy to a new country.
If You Want to See a Whale
written by Julie Fogliano; illustrated by Erin Stead
Advises the reader about what to do, and not do, in order to successfully spot a whale, such as wrapping up in a not-too-cozy blanket, ignoring the roses, and especially, being patient.
The Story of Fish and Snail
written and illustrated by Deborah Freedman
Every day, Snail waits for Fish to return and tell him a story but their friendship is tested when Fish asks Snail to take a leap out of their book to actually see a new pirate book in the library.
How to Bicycle to the Moon to Plant Sunflowers
written and illustrated by Mordecai Gerstein
Too busy with school, soccer, and other activities, a young boy who wants to cheer up the sad, lonely moon presents the reader with a step-by-step plan for becoming the the first human to bicycle to the moon.
Little Red Writing
written by Joan Holub; illustrated by Melissa Sweet
Once upon a time, in pencil school, a brave little red pencil sets out to write an exciting story with nouns and adverbs and everything–but first she has to face the ravenous pencil sharpener, the Wolf 3000.
Flora and the Flamingo
written and illustrated by Molly Idle
In this wordless book, a friendship develops between a girl named Flora and a graceful flamingo, as they learn to dance together.
Warning: Do Not Open this Book!
narrated by Adam Lehrhaupt; illustrated by Matthew Forsythe
Monkeys, toucans, and alligators unleash mayhem.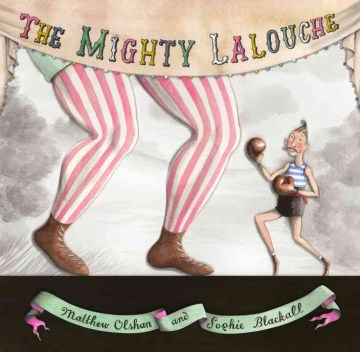 The Mighty Lalouche
written by Matthew Olshan; illustrated by Sophie Blackall
Lalouche the postman joins the Bastille Boxing Club, though everyone laughs at his small, skinny frame. Despite their ridicule, Lalouche goes undefeated against some of the toughest, biggest boxers in Paris.
Daisy Gets Lost
written and illustrated by Chris Raschka
A young dog experiences the fear of being lost and the joys of being found when she becomes separated from her owner.
Everyone Can Learn to Ride a Bicycle
written and illustrated by Chris Raschka
A father teaches his daughter all about bicycle riding, from selecting the right bike to trying again after a fall.
Dusk
Written and illustrated by Uri Shulevitz
One December afternoon, boy with dog and grandfather with beard take a walk to watch the sun begin to set over the river. When the sun drops low in the sky, they start home. Buildings grow dimmer. People are rushing. As nature's lights go out, one by one, city's lights turn on, revealing brilliant Hanukkah, Kwanza, and Christmas displays in streets, homes, and stores.
The Dark
written by Lemony Snicket; illustrated by Jon Klassen
The Dark is everywhere, unfortunately for Laszlo, who is afraid of it. But one night, when Laszlo can't sleep, it's the Dark who helps him overcome his fear.
Bluebird
written and illustrated by Bob Staake
A wordless picture book about the inspiring friendship that develops between a bluebird and a young boy.
Hello, My Name is Ruby
written and illustrated by Philip Stead
Ruby, a very small bird in a very big world, is looking for a friend, so she introduces herself.
Mr. Wuffles!
written and illustrated by David Wiesner
Mr. Wuffles ignores all his cat toys but one, which turns out to be a spaceship piloted by small green aliens. When Mr. Wuffles plays rough with the little ship, the aliens must venture into the cat's territory to make emergency repairs
That is NOT a Good Idea!
written and illustrated by Mo Willems
A surprising lesson about the importance of listening to one's inner gosling ensues when a very hungry fox issues a dinner invitation to a very plump goose.
Martin & Mahalia: His Words, Her Song
written by Andrea Davis Pinkey; illustrated by Brian Pinkney
Explores the intersecting lives of civil rights leader Martin Luther King, Jr. and gospel singer Mahalia Jackson at the historic moment when their joined voices inspired landmark changes.
Frog Song
written by Brenda Z. Guiberson; illustrated by Gennady Spirin
Text and color illustrations introduce frogs and their vital role in environmental balance in places all over the world.
Locomotive
written and illustrated by Brian Floca
Learn what it was like to travel on the transcontinental railroad in the 1860s.
On a Beam of Light: A Story of Albert Einstein
written by Jennifer Berne; illustrated by Vladimir Radunsky
Follows the life of the famous physicist, from his early ideas to his groundbreaking theories.
Nelson Mandela
written and illustrated by Kadir Nelson
Award-winning artist Nelson tells the story of Mandela, a global icon, in poignant verse and glorious illustrations. It is the story of a young boy's determination to change South Africa and of the struggles of a man who eventually became the president of his country by believing in equality for people of all colors.
A Splash of Red: The Life and Art of Horace Pippin
written by Jen Bryant; illustrated by Melissa Sweet
Presents an illustrated introduction to the life and work of artist Horace Pippin, describing his childhood love for drawing and the World War I injury that challenged his career.
The Tree Lady
written by H. Joseph Hopkins; illustrated by Jill McElmurry
Learn about Katherine Olivia Sessions who brought trees to San Diego and created what eventually became Balboa Park.
Every year, the American Library Association awards the Caldecott Medal to a picture book for children that exhibits excellence in illustration. Though there are many criteria that the official Caldecott Committee uses in judging the year's best picture books, here are a few items to keep in mind:
The Medal is awarded to the illustrator—not the author (unless they are the same person).
The illustrator must hold U.S. residency.
The picture book must be published first in the United States.
The picture book must be published in the year 2013.