We Love Artificial Intelligence…
Even before Asimov's "I Robot," humans have been fascinated by the idea of artificial intelligence.
And recent films like "Her," "Chappie" and "Ex Machina" prove that we're still fascinated by our love and fear of robots and drones. So check out more of our favorite books and films that explore the idea of humanity – in a world where the line between humans and robots gets closer all the time.
Robopocalypse
by Daniel H. Wilson
In the near future, at a moment that no one will notice, all the dazzling technology that runs our world will unite and turn against us. A movie based on the original novel is in pre-production.
Love + Sex with Robots: the Evolution of Human-Robot Relations
by David Levy
Draws on cutting-edge research, as well as examples from cultural history and psychology, to explore humanity's fascination with the scientific potential of emotional relationships with artificial intelligence.
Battlestar Galactica
DVD [2005]
After losing the war against the Cylon robots, the Battlestar Galactica crew heads toward the fabled 13th colony, Earth. Galactica Commander Adama and President Laura Roslin are facing the problems of waning supplies and crushed morale. Along the way they have to deal with the credible threat that Cylons may be aboard the ship.
Military Robots and Drones: A Reference Handbook
by Paul J. Springer
Provides a general history of robotic warfare; examines key individuals, agencies, documents, and models; discusses controversies within the field of robotic and drone warfare, such as ethical considerations; and explains how increased reliance on robotics has affected the structure and strategy of the military.
Flood and Fire
by Emily Diamond
In 22nd-century Cambridge, England, thirteen-year-old Lilly Melkun must try to stop the strange, uncontrollable robots that were activated when a sinister-looking chip in her hand-held computer triggered a false anti-terrorist alert.
The Peripheral
by William Gibson
As a favor to her brother, Flynne Fisher fills in on a mysterious job beta testing a new game. Remotely flying a copter around a high-rise building, Flynne's job is to simply keeping the paparazzi drones away from one of the apartments, but everything changes when she witnesses a murder.
Blade Runner
DVD [1982]
Los Angeles, 2019: Rick Deckard of the LAPD's Blade Runner unit prowls the steel & microchip jungle of the 21st century. His job is to track down and eliminate assumed humanoids known as 'replicants.' Replicants were declared illegal after a bloody mutiny on an Off-World Colony, and are to be terminated upon detection.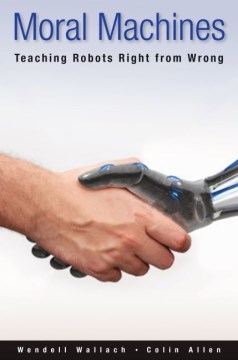 Moral Machines: Teaching Robots Right from Wrong
by Wendell Wallach and Colin Allen
Machines that look like people, fall in love, and wreck worlds may be on their way, but realistically the problem now is with computer programs that act autonomously – by playing roles in electric blackouts and blocking credit cards, and machines that drive subway trains and guide military vehicles.