One of the hottest new books this month is Lena Dunham's "Not That Kind of Girl."
While you're waiting to read it – or if you just finished and loved it – try these other books by brilliant and funny women making their own way as they navigate work, relationships, glass ceilings and personal identity: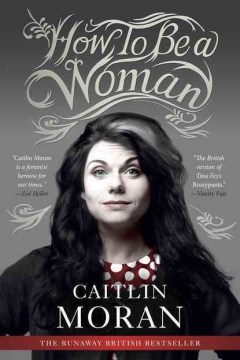 How To be A Woman
by Caitlin Moran
Moran's musings on why, although they have the vote and the Pill and haven't been burned as witches since 1727, life isn't exactly a stroll down the catwalk for modern women. Why are they supposed to get Brazilians? Why do bras hurt? Why the incessant talk about babies? And do men secretly hate them?
BossyPants
by Tina Fey
On her way to becoming an award-winning superstar, Tina Fey struggled through some questionable haircuts, some after-school jobs, the rise of nachos as a cultural phenomenon, a normal childhood, a happy marriage and joyful motherhood. Now she can reflect on what she's learned: you're no one until someone calls you bossy.
Is Everyone Hanging Out Without Me (and other concerns)
by Mindy Kaling
Kaling shares her observations, fears, and opinions about a wide-ranging list of the topics she thinks about the most. From her favorite types of guys to life in the "The Office" writers' room, her book is full of personal stories and laugh-out-loud philosophies.
The Bedwetter: Stories of Courage, Redemption and Pee
by Sarah Silverman
Comedian Silverman's memoir that mixes showbiz moments with the more serious subject of her teenage bout with depression as well as stories of her childhood and adolescence.
My Salinger Year
by Joanna Rakoff
In the late 90s Rakoff flees graduate school for New York City and tries to make ends meet by working as a temp at a literary agency. The agency, frozen in the time of chain-smoking bosses and Selectric typewriters, represents a long list of celebrated clients, including J.D. Salinger. Rakoff finds herself swimming in his fan mail, typing responses on the reclusive writer's behalf, and trying to navigate her equally strange personal life.
I Was Told There'd be Cake
by Sloane Crosley
These essays create a startlingly funny and revealing portrait of a complex yet utterly recognizable character who aims for the stars but hits the ceiling: From despoiling an exhibit at the Natural History Museum to provoking the ire of her first boss to siccing the cops on her mysterious neighbor, Crosley can do no right despite the best of intentions–or perhaps because of them.
And one bonus fiction:
Citizen Girl: a Novel
by Emma McLaughlin and Nicola Kraus
Fresh out of college, 24-year-old Girl is ready to jump into the work force. When she finds the job of her dreams, she leaps at the chance to make big money. But she's having a hard time figuring out just what her job is.