Matthew Thomas' novel charts the story of the American Century, with the promise of domestic bliss and economic prosperity that captured hearts and minds after WWII.
Whether you're waiting to read "We Are Not Ourselves," or already read it and loved it, here are five more epic family sagas exploring the American Dream:
Within Arm's Reach
by Amy Napolitano
An Irish-American family in New Jersey, tied together and split apart by the usual family fare, twists and turns on an unexpected pregnancy.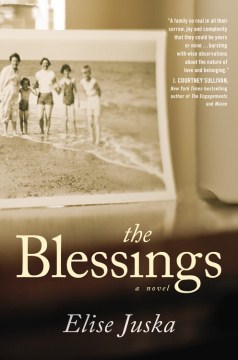 The Blessings
by Elisa Juska
When John Blessing dies and leaves behind two small children, the loss reverberates across his extended family for years to come.
Baker Towers
by Jennier Haight
Baker towers, the piles of slag dumped near the railroad siding for the Baker Coal Mines, are the reason that pre-World War II Bakerton, PA, exists – the company is the town, and the town is the company. When Stanley Novak drops dead from a massive heart attack, he leaves behind a wife and five children who must struggle to survive.
Liars and Saints
by Maile Meloy
Yvette goes against her father's wishes by marrying an American fighter pilot during World War II. When she admits to an innocent flirtation while Teddy is overseas, he is overcome with jealousy. Yvette vows never to be so honest again, and thus starts a series of lies that both trouble and bind together the family for generations.
Mary and O'Neil
by Justin Cronin
Presented as "a novel in stories," we meet a middle-aged couple coping with crises, whose troubles seem to be transferred inevitably onto their children.
Freedom
by Jonathan Franzen
The idyllic lives of civic-minded environmentalists Patty and Walter Berglund come into question when their son moves in with aggressive Republican neighbors, green lawyer Walter takes a job in the coal industry, and go-getter Patty becomes increasingly unstable and enraged.